If you are an adult in the market for a new wood bat or your child or teen is looking to make that transition to wood, you probably have asked yourself a few of these questions:
Should I get the same size barrel as my aluminum bat?

What weight is appropriate for my swing?

What is the difference in wood types?

What model do I choose?

Do I need the XP finish?
YOUTH
For youth making the transition to wood bats the YG "Young Gun" model is a great bat specifically for that kid who was born to play baseball. The YG model classifies as a "Balanced Bat." Each size YG will be engineered to accommodate a very well balanced yet powerful swing. An excellent choice for players between the ages of 5-12. The Chandler Youth YG adheres to the 2 1/4" diameter barrel rules. These bats are specifically designed for proper swing mechanics and in most cases, outperform their metal counterparts.
ADULTS
Adults looking to pick up a wood bat, think about what kind of hitter you are. That is going to help determine the best size bat for you. If you tend to be more of a power hitter, a larger barrel may work best. Consider our CB271. This model is by far the most popular pro model and is a great choice for players that are looking for excellent balance. It has a slightly larger barrel with flared knob.
CONTACT HITTERS
For contact hitters, a smaller barrel means a lighter weight and the ability for a faster, more controlled swing. Although the smaller barrel produces a less powerful hit the bats are generally denser. Consider looking into the BD13 model if looking to switch to a wooden bat. This model is typically used by players entering the Minor Leagues as it has a thicker, near 1" handle (slightly more than CB271). Players making the switch find the thicker handle more durable as it mirrors the feel of the metal bats they're used to using. It is extremely high quality and a great pick for that first-time wooden bat user.
POWER HITTERS
As a power hitter, you've been around the block a few times. Power hitters are looking for an end-loaded bat to add some punch to their swing. The AJ99 is a great option, crafted for super star Aaron Judge, a well known power hitter. For those looking to transition into power hitting, we recommend the RA13M which has a slight flare to the knob with a medium/large barrel. Click here to see a full list of our End Loaded models.
KNOB TYPES
We've got a couple options based on what model you choose - traditional or flared.
TRADITIONAL - These are the types of knobs that are found on metal bats. We recommend these to beginners since the feel is similar to what they are used to. Traditional knobs have minimal to no taper from the handle to knob transition.
FLARED - Very popular high school and up, the flared knob offers a taper between the knob and the handle. The larger the knob, the more of a counter weight it offers, creating more whip with the follow-through.
BARREL SIZE
When looking at barrel size, one thing to keep in mind is that if you get the same size barrel as the aluminum bat you've been swinging, it could end up being too heavy. Although the barrels may be the same, the aluminum bat barrels are hollow and with wood, the barrels are solid. This makes quite the difference in weight for someone who is not used to it. The longer a player uses a wood bat, it's common for the bat weight preference to get heavier.
WEIGHT
When selecting your new wood bat, weight is a major factor to consider during the selection process. The weight, also known as its "drop" is a negative number showing the bat's length to weight differential. For example, if a bat is 33 inches and has a drop weight of (-3) the bat will weigh 30 ounces. The larger the drop weight, the lighter the bat will be. Adult wood bats are typically made with a -3 drop, while youth bats are typically a -6 drop.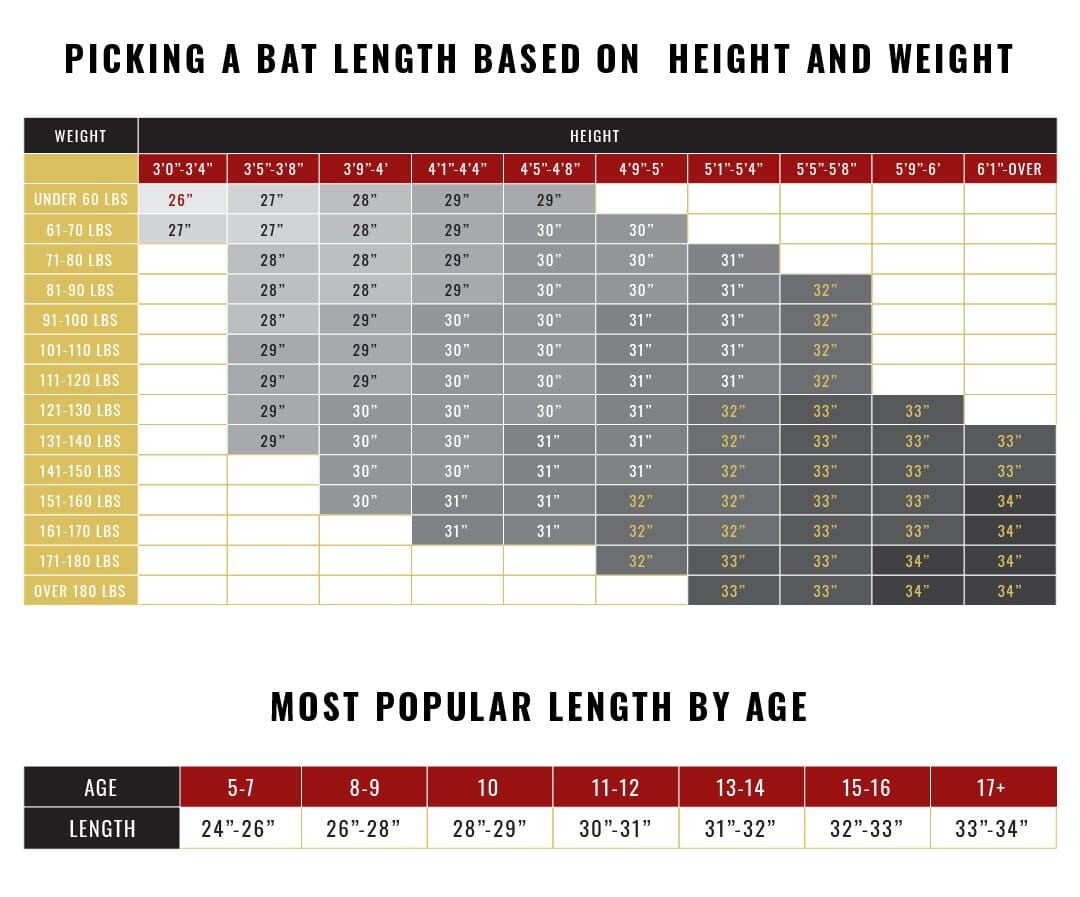 WOOD OPTIONS
Today, players have a vast array of wood options to choose from when customizing their wooden baseball bat. The type of wood has a huge impact on the bats overall performance and lifespan. At Chandler Bats, our wood is locally sourced in Pennsylvania, we have a pick of the best wood in the business.
MAPLE - "Most Popular" 

Maple wood baseball bats are favored by more players and makes up about 70% of the bats used by professional baseball players. Maple is a tight grained hardwood which makes the surface hardness about 15-20% more dense than that of an Ash bat. Because of that fact, Maple wood bats absorb less energy from the contact of the hit and uses that energy instead to propel the ball further than that of Ash bats and give you that extra power you're looking for. It's tighter grain also makes it more durable and less prone to splintering and breakage.

High density, durable, greater pop, higher exit velocity, hardest surface, doesn't splinter or flake. 

Maple is less forgiving when hit outside of the hitting zone. 

Since maple must be dried significantly before manufacturing, it is prone to take on moisture in humid climates, which adds weight. (Our XP Finish adds a protective layer to prevent moisture accumulation.)
BIRCH - "Best for Beginners" 

Chandler Bats currently offers bats in both Birch and Maple, the most common wood types for baseball bats. Birch wood has a density similar to Maple, but the flex similar to Ash. Birch is a softer wood than maple, which allots it  more flexibility and a softer feel. Because of that, the wood compresses as it makes contact with the baseball, creating what is called the "trampoline effect." With the softer wood, it is more forgiving when hit outside of the 'Hit Zone', but does had a decreased exit velocity. 

It is softer, thus more flexible. No flaking. Flexibility adds whip effect when hitting. More forgiving when balls are hit outside of the hitting zone.

Because it is a softer wood, it has a higher likelihood of denting. Softer wood equals lower exit velocity.
XTRA PROCESSING (XP FINISH)
Chandler Bats now offers an Xtra Process (XP) finish where the bat gets cured for an extra 3-days. This process adds additional time, but the results are worth the wait. The finish adds a smooth glossy shine  or gritty matte and makes the bat twice as hard. This allows for a reduction in the loss of power through the hit as well as making it more resilient to dents and scratches. More time, more processing, twice the hardness. The Chandler Bat XP finish is in our opinion a must have for anyone looking to prolong the life of their bat and add that extra and louder power to their swing. XP also offers more protection from moisture getting into the wood which can be an issue for maple bats. Moisture in a bat means it will take on weight, all the way up to an ounce. So if you play in a humid climate, we highly recommend opting in for XP. 
At Chandler, we made it our mission to offer the same high-end product to players at every level of the game. Rest assured knowing that all our wood comes from the same pile. Whether you're new to swinging a wooden bat, or a professional baseball player who's been using them for years, Chandler Bats is about accuracy and quality that can be seen in the details on every bat. If you need any additional help choosing a Chandler Bat, please contact our batting specialists at hello@chandlerbats.com.